Posts for tag: tooth decay
By Julie Monroy, DDS
February 27, 2018
Cavities can happen even before a baby has his first piece of candy. This was the difficult lesson actor David Ramsey of the TV shows Arrow and Dexter learned when his son DJ's teeth were first emerging.
"His first teeth came in weak," Ramsey recalled in a recent interview. "They had brown spots on them and they were brittle." Those brown spots, he said, quickly turned into cavities. How did this happen?
Ramsey said DJ's dentist suspected it had to do with the child's feedings — not what he was being fed but how. DJ was often nursed to sleep, "so there were pools of breast milk that he could go to sleep with in his mouth," Ramsey explained.
While breastfeeding offers an infant many health benefits, problems can occur when the natural sugars in breast milk are left in contact with teeth for long periods.  Sugar feeds decay-causing oral bacteria, and these bacteria in turn release tooth-eroding acids. The softer teeth of a young child are particularly vulnerable to these acids; the end result can be tooth decay.
This condition, technically known as "early child caries," is referred to in laymen's terms as "baby bottle tooth decay." However, it can result from nighttime feedings by bottle or breast. The best way to prevent this problem is to avoid nursing babies to sleep at night once they reach the teething stage; a bottle-fed baby should not be allowed to fall asleep with anything but water in their bottle or "sippy cup."
Here are some other basics of infant dental care that every parent should know:
Wipe your baby's newly emerging teeth with a clean, moist washcloth after feedings.
Brush teeth that have completely grown in with a soft-bristled, child-size toothbrush and a smear of fluoride toothpaste no bigger than a grain of rice.
Start regular dental checkups by the first birthday.
Fortunately, Ramsey reports that his son is doing very well after an extended period of professional dental treatments and parental vigilance.
"It took a number of months, but his teeth are much, much better," he said. "Right now we're still helping him and we're still really on top of the teeth situation."
If you would like more information on dental care for babies and toddlers, please contact us or schedule an appointment for a consultation. You can also learn more by reading the Dear Doctor magazine articles "The Age One Dental Visit" and "Dentistry & Oral Health for Children."
By Julie Monroy, DDS
February 04, 2018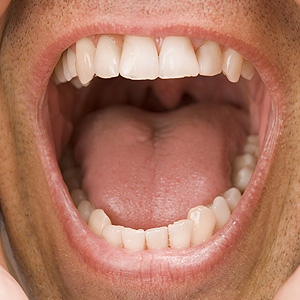 We often don't realize how important something is until it's gone. Like saliva: you're usually not aware that it's cleaning the mouth, neutralizing mouth acid or helping with digestion. But that could change if your saliva flow drops below normal: your health may soon suffer with your mouth taking the brunt.
In particular, reduced saliva flow increases your risk for tooth decay and periodontal (gum) disease. Both diseases are linked to oral bacteria. While many of the myriad strains in the mouth are beneficial, a few bacteria can infect and inflame gum tissues. Bacteria also produce acid, which can soften and erode enamel and make the teeth more susceptible to decay.
Saliva inhibits bacteria in a number of ways. It first clears the mouth of leftover food so not as much stays behind to form bacterial plaque, a thin film of food particles that builds up on teeth. You still need to brush and floss daily to remove plaque, but it's less effective without saliva's cleansing action. Saliva also contains antibodies that destroy disease-causing bacteria and other organisms, which keeps their populations in the mouth low.
One of saliva's most important functions, though, is buffering acid. The mouth's ideal pH level is neutral, but many foods we eat can cause it to become more acidic. Even a slight acidic rise after eating can soften the minerals in enamel. But saliva goes to work immediately and usually restores normal pH within a half hour to an hour. It also aids in re-mineralizing the enamel.
For these reasons, it's important for you to find out the cause of chronic dry mouth and treat it. If it's a side effect of your medication, talk to your doctor about an alternative, or drink more water before and after you take your dose. Certain products can also stimulate saliva flow, like chewing gum with xylitol, an alcohol-based sweetener that has dental health-protecting properties too.
Although you often don't notice this unsung bodily fluid swishing in your mouth, it's important that you take care of it. Keeping your saliva flowing will help ensure better oral health.
If you would like more information on the importance of saliva to health, please contact us or schedule an appointment for a consultation. You can also learn more about this topic by reading the Dear Doctor magazine article "Saliva: How it is used to Diagnose Disease."
By Julie Monroy, DDS
December 21, 2017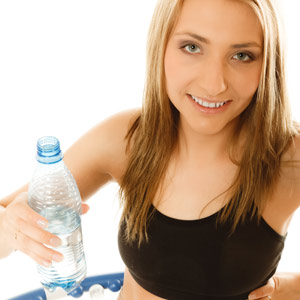 Your teeth's hard, enamel coating protects them from environmental dangers or disease. But although it's made of the hardest substance in the human body, enamel isn't invincible — prolonged exposure to acid can cause dental erosion, a condition in which the enamel's mineral content permanently dissolves, a process known as de-mineralization.
De-mineralization occurs anytime our mouth environment becomes too acidic due to eating or drinking items with high acid content. Saliva normally neutralizes mouth acid in thirty minutes to an hour after we eat, as well as restores mineral content to the enamel (re-mineralization). Danger arises, though, if the saliva's buffering action is overwhelmed by chronic acidity, caused mainly by constant snacking or sipping on acidic foods and beverages throughout the day — in this situation, saliva can't complete the process of buffering and re-mineralization.
As a result, the enamel may permanently lose its mineral content and strength over time. This permanent dental erosion leads to serious consequences: the teeth become more susceptible to decay; the dentin becomes exposed, which causes pain and sensitivity to pressure and temperature changes; and changes in the teeth's size and color can negatively alter your appearance.
It's important to take action then before dental erosion occurs. Along with daily oral hygiene, restrict your consumption of acidic foods and beverages to meal times and cut back on between-meal snacks. Rather than a sports drink after exercising, drink nature's hydrator — water. You should also alter your brushing habits slightly — rather than brush right after you eat, wait thirty minutes to an hour. This gives saliva time to restore the mouth to its normal pH and re-mineralize the enamel. Brushing right after can remove even more of the minerals in softened enamel.
If significant erosion has occurred, there are a number of treatment options we can undertake to preserve remaining tooth structure and enhance your appearance. In moderate cases, we can reshape and cover damaged teeth using dental materials like composite resins or porcelain to fill decayed areas or cover teeth with veneers or crowns.
The key of course, is to identify dental erosion through clinical examination as soon as possible to minimize damage. Your enamel plays a critical role in protecting your teeth from disease — so take the right steps to protect your enamel.
If you would like more information on protecting your enamel, please contact us or schedule an appointment for a consultation. You can also learn more about this topic by reading the Dear Doctor magazine article "Dental Erosion."