Posts for: December, 2017
By Julie Monroy, DDS
December 21, 2017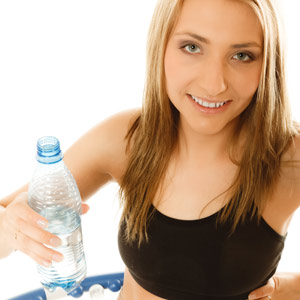 Your teeth's hard, enamel coating protects them from environmental dangers or disease. But although it's made of the hardest substance in the human body, enamel isn't invincible — prolonged exposure to acid can cause dental erosion, a condition in which the enamel's mineral content permanently dissolves, a process known as de-mineralization.
De-mineralization occurs anytime our mouth environment becomes too acidic due to eating or drinking items with high acid content. Saliva normally neutralizes mouth acid in thirty minutes to an hour after we eat, as well as restores mineral content to the enamel (re-mineralization). Danger arises, though, if the saliva's buffering action is overwhelmed by chronic acidity, caused mainly by constant snacking or sipping on acidic foods and beverages throughout the day — in this situation, saliva can't complete the process of buffering and re-mineralization.
As a result, the enamel may permanently lose its mineral content and strength over time. This permanent dental erosion leads to serious consequences: the teeth become more susceptible to decay; the dentin becomes exposed, which causes pain and sensitivity to pressure and temperature changes; and changes in the teeth's size and color can negatively alter your appearance.
It's important to take action then before dental erosion occurs. Along with daily oral hygiene, restrict your consumption of acidic foods and beverages to meal times and cut back on between-meal snacks. Rather than a sports drink after exercising, drink nature's hydrator — water. You should also alter your brushing habits slightly — rather than brush right after you eat, wait thirty minutes to an hour. This gives saliva time to restore the mouth to its normal pH and re-mineralize the enamel. Brushing right after can remove even more of the minerals in softened enamel.
If significant erosion has occurred, there are a number of treatment options we can undertake to preserve remaining tooth structure and enhance your appearance. In moderate cases, we can reshape and cover damaged teeth using dental materials like composite resins or porcelain to fill decayed areas or cover teeth with veneers or crowns.
The key of course, is to identify dental erosion through clinical examination as soon as possible to minimize damage. Your enamel plays a critical role in protecting your teeth from disease — so take the right steps to protect your enamel.
If you would like more information on protecting your enamel, please contact us or schedule an appointment for a consultation. You can also learn more about this topic by reading the Dear Doctor magazine article "Dental Erosion."
By Julie Monroy, DDS
December 06, 2017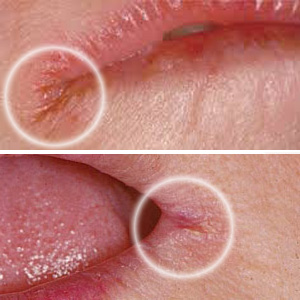 We've all had physical ailments that were more irritating than serious. The problem of skin cracking at the corners of the mouth fits into that category.
Both dentists and dermatologists encounter this condition often and have a name for it: perleche, derived from the French word lecher, meaning "to lick." The term arises from patients' tendency to excessively lick the broken skin to soothe the itching or burning.
Perleche most often arises from certain mouth conditions, although systemic problems like anemia or diabetes may also cause it. Children or younger adults, especially those with orthodontic braces or a tendency to drool as they sleep, often develop perleche; older adults with wrinkling around the mouth are also susceptible. Mouth dryness caused by reduced saliva flow may also irritate the skin and cause discomfort.
As the skin becomes irritated, the person may begin to lick the corners of the mouth to soothe them. This sets up conditions for an infection, most often caused by yeast known as candida albicans. The infection may become more acute and begin to affect the entire inside of the mouth or throat.
If you've developed perleche, our primary treatment goal is to reduce any infection with the aid of oral or topical antifungal drugs. One drug, Nystatin, is often taken as a lozenge that dissolves in the mouth and works its way from there through the rest of the body. You can also apply antifungal ointments several times a day to the corners of the mouth, often in combination with steroid ointments that reduce redness and swelling. You can also apply antifungal zinc oxide paste to the cracked skin, which also serves as a barrier between the skin and outer contaminants.
To reduce the chance of future outbreaks, we may recommend you rinse with Chlorhexidine, as well as replace missing teeth or refit loose dentures — these too are contributing factors to erupting yeast infections. You might also need to undergo dermatologic treatment for wrinkles if they've proven to be a factor in developing perleche.
Although not a major problem, perleche can be exceedingly uncomfortable and embarrassing. Thanks to a number of treatment options, you don't have to put up with that discomfort for long.
If you would like more information on perleche (angular cheilitis), please contact us or schedule an appointment for a consultation. You can also learn more about this topic by reading the Dear Doctor magazine article "Cracked Corners of the Mouth."